Spring 2024 Registration Information
Registration for the Spring 2023 semester begins on November 6th, 2023 for continuing students. If you would like to know your appointment time please log on to your portal and click MyRegistration.
Registration appointment times are assigned based on the number of units completed/class level.

Not sure if you are on track? Need to know what you should be registering for? Log on to your portal and click on MyDegreePath, this tool will help you determine what requirements you have not completed.

Make sure to check out the "Registration Tutorial" video below regarding the steps for creating a schedule and ways to avoid registration errors!
Important Dates for Spring 2024
Spring Semester Begins: Tuesday, January 9, 2024
Spring Instruction Begins: Tuesday, January 16, 2024
Last Day to Add/Drop Courses: Monday, February 5, 2024

Last Day to Add Courses online: Monday, January 22, 2024
Add Course Courses with Instructor Signature: Tuesday, January 23 - Monday, February 5, 2024
---
Coursework at Other Institutions
Students wanting to take courses at a community college or another institution while being concurrently enrolled at UC Merced in Fall or Spring semesters need to request permission from the Dean prior to enrolling. Before enrolling in coursework, see your Academic Advisor to determine the applicability of potential coursework to your program and to fill out the proper documents.
California Community Colleges
ASSIST.org
ASSIST is an online student-transfer information system that shows how course credits earned at one public California college or university can be applied when transferred to another. Utilize this website when looking to find courses to take over summer at a community college. Note: Only lower division courses are offered at community colleges.
---
Repeating a Course
Any undergraduate student who wishes to repeat a non-repeatable course can take the course for a second attempt without further permission, as long as the student did not receive an incomplete in the previous attempt.
If this will be your third (or subsequent) attempt at the particular course you were trying to repeat, you will need to fill out the
SSHA Subsequent Course Repeat
 webform.
If you need to attempt a course in the School of Natural Science for a third (or subsequent) time you need to complete this form.
If you need to attempt a course in the School of Engineering for a third (or subsequent) time you will need to complete this form.
---
Requesting a Prerequisite Override
If you are interested in taking a course but have not completed the prerequisite(s), you will need permission from the instructor to enroll in the course. You must complete a
Requisite Override Enrollment
form to seek instructor approval to add into the course. Requisites include course prerequisites or corequisites and major or class level restrictions.
The request is electronic, you will receive email confirmations throughout the process. If your request is approved, you will be given an instructor override so you can register in the course. You may find the last day to add or drop a course schedule via the
Add/Drop schedule
on the Office of the Registrar website.
---
Emailing SSHA Academic Advising and your Academic Advisor
If you are requesting information from our office and/or your academic advisor it is important that you follow the following professional email protocol: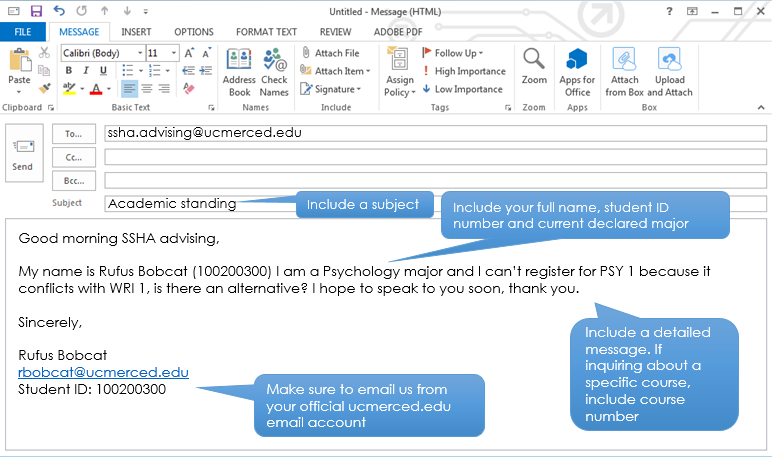 ---
Important Links