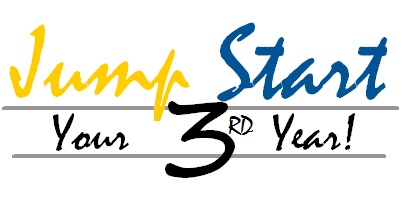 What is Jump Start Your 3rd Year?
The purpose of this REQUIRED meeting is to provide the entering freshman class of Spring or Fall 2020 with an opportunity to discuss progress to degree and development of educational goals.
Completing Jump Start will allow YOU to:
Identify resources available to help you track and sustain academic progress;

Outline your remaining semesters;

Determine how to organize and approach your academic plan utilizing your Audit and MyDegreePath
What is required to complete my meeting?
Review your current Audit through

MyDegreePath

(or What-If Audit for your intended major)

Prepare a Graduation Plan using

MyDegreePath

:




Using MyDegreePath, complete a graduation plan, which includes all of your remaining graduation requirements (you can find resources for how to create a Plan through Graduation

here

)




When working on your graduation plan, you should not plan a semester for Fall of 2021 since you are already enrolled in coursework. You are only planning for future terms.

You are expected to have a completed graduation plan before your meeting.

During your meeting, Advisors and Peer Navigators will work with you to make any needed adjustments together.
NOTE: Students wishing to complete this meeting without the above materials will not be seen, and will be asked to come back at a later time with the required documents.
What resources are available to assist me in creating my graduation plan?
To learn how to use the Plan Builder tool on MyDegreePath, please click

HERE

.

Four Year Major Plans

- These documents will give you a suggested 4-year plan for each SSHA major. Choose your catalog year: 2020
Still need assistance with creating your graduation plan? Join our Peer Navigators for a Jump Start Workshop! The dates and times for our online workshops will be listed soon on our Events page.
Who can I complete my mandatory meeting with?
This meeting can be completed with either a Peer Navigator or Academic Advisor.

You can complete your meeting via a virtual or in person

Appointment

or virtual

Walk-In

meeting.
You can also complete your JumpStart meeting through an in-person Walk-In meeting with your assigned Peer Navigator.
Students who plan to complete their degree outside of SSHA:
If you plan to change your major to a School outside of SSHA after this term, you will still need to attend this meeting with an Academic Advisor from either the School of Engineering or School of Natural Sciences depending on your major of interest.
You should meet with an Academic Advisor from School of Engineering or School of Natural Sciences by joining their walk-in hours or scheduling an appointment to complete the meeting.
What is the timeframe for me to complete my Jump Start meeting?
Jump Start advising sessions will be available starting September 22nd, 2021. You are strongly advised to complete your meeting prior to November 3rd, 2021.
The final deadline to complete your Jump Start meeting will be November 5th, 2021.

MyDegreePath - Check out the registrar's website for information on accessing your audit and MyDegreePath.
Printing on Campus - Can't print from home? Check out this resource page for printing on campus, as well as a listing of the IT Labs with computer/printing access.
Sample 4 Year Major Specific Graduation Plans
Below are links to our SSHA major pages; which include suggested 4-year plans for each of our majors. The plans below are generic, and your specific plan for graduation may differ from what is indicated.
Cognitive Science, BA 2019-2020
Cognitive Science, BS 2019-2020
Critical Race and Ethnic Studies 2019-2020
Global Arts Studies Program 2019-2020 (Option 1)
Global Arts Studies Program 2019-2020 (Option 2)
Management and Business Economics 2019-2020
Spanish 2019-2020 (starting with SPAN 050)
Spanish 2019-2020 (starting with SPAN 010)