Freshmen Registration Resources

Below you will find documents and information to support you in learning more about SSHA, our advising office, and registering for courses.
---
---
Click and download documents used during Orientation
---
New Student Registration Presentation

Download this presentation to get all of your registration questions answered, inclsuing how to create a schedule, how to read your audit, and much more!
Have specific questions about registration? Click on the hyperlinks below to access specific points on the presentation above (links will take you directly to YouTube)
---
Below are suggested schedules by major. Select the column based on your Writing course placement (you will learn your Writing/Math/Chemistry placement once you attend orientation). If you did not attend orientation and want to know which Writing course you placed in please contact ssha.advising@ucmerced.edu (include your full name, student ID, and declared/intended major).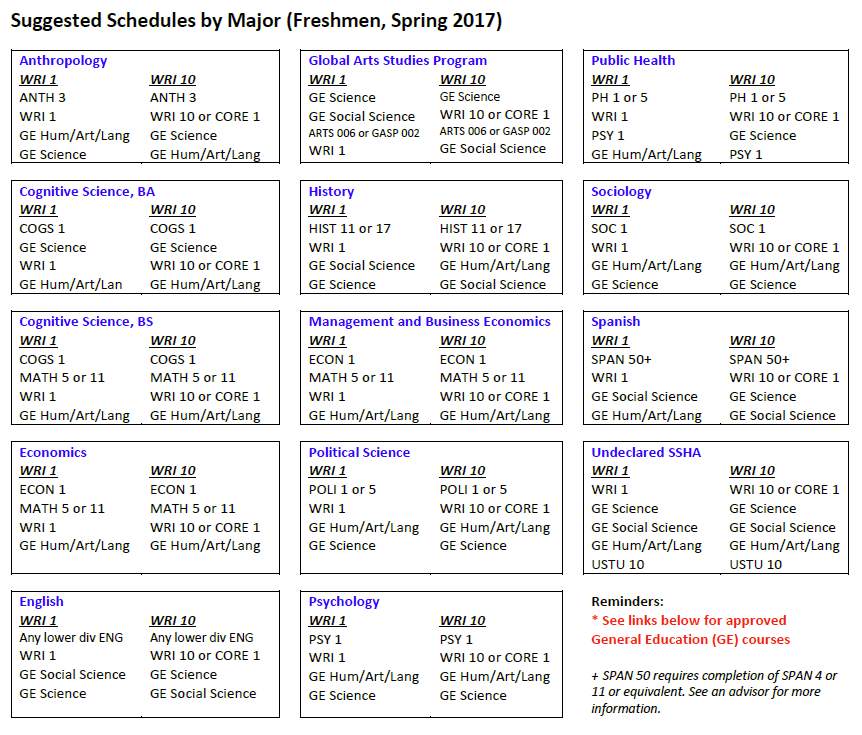 For list of approved GE courses click below:
Additional Links:
---
If you are interested in taking a course but have not completed the prerequisite(s), you will need permission from the instructor to enroll in the course. Email the instructor of the course and request permission to enroll without the prerequisite; if the instructor allows you into the course forward their approval email to your academic advisor or ssha.advising@ucmerced.edu, and include your full name, student ID, current delcared major, and course name and number (ex. ECON 100).
If the instructor is not listed under the course you will need to wait until the beginning of the semester and get written permission from the instructor by having them fill out a Requisite Override Enrollment form and turning it in to the Students First Center before the add deadline.
---
With careful planning, preparing for health professions can be done in majors outside of the sciences. The links below will guide you on resources, events, newsletters/listervs, and scheduling an appointment to meet with a Pre-Health Advisor.
---
If you are requesting information from our office and/or your academic advisor it is important that you follow the following professional email protocol:
Include the following:
Full name
UCM Student ID
Currently declared major
Detailed message